Swinging Blue Jeans -
Hit Recording stars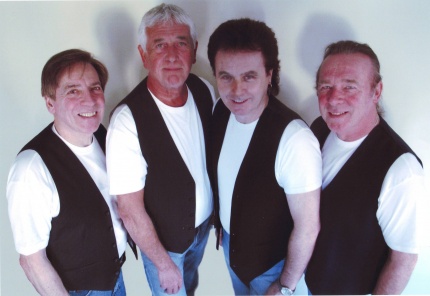 Hit Recording stars
The Swinging Blue Jeans were originally founded by Ray Ennis and Les Braid. In 1962, they were signed to a recording contract by HMV Records and their debut single It's Too Late Now in 1963 just crept into the British charts at Number 30. Their next single Hippy Hippy Shake crashed into the Hit Parade and just fell short of the Number 1 slot. Their follow-up release, Good Golly Miss Molly followed suit and their next single You're No Good reached Number 3 in Britain.
They famously engaged in a punch up with the Rolling Stones at the BBC studios during recording of the first show of Top of the Pops as a result of an argument over a ball point pen for signing autographs. One of Britain's goodtime bands, they were essential a visual group, and they could never hope to capture the excitement of their live performances on record. And, after scoring in the charts once more with Don't Make Me Over in 1966, their career went into a steep decline.
However, despite several line-up changes The Swinging Blue Jeans are still going strong. Until May 2010, when he made the decision to retire, The Swinging Blue Jeans still featured original member Ray Ennis - lead, rhythm guitar and vocals (centre front) with Phil Thompson, drums, and Alan Lovell, lead guitar, vocals. Les Braid died in 2005.
Previous Page
Top