Queen Alive -
Queen Tribute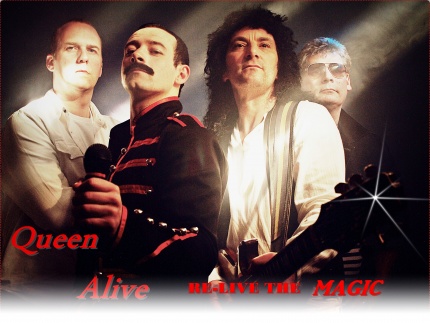 Queen Tribute
After playing in some of the UK's most respected live bands for over 20 years, Andy Clee, Gary Mitchell and Nick Overfield grew up together heavily influenced by rock bands such as Thin Lizzy, Toto, Genesis and of course Queen. Today, recreating that trademark Queen style has become second nature to them (indeed, Gary is more than a match on the axe for Brian May - and if you don't believe that then simply go see him for yourself!).
Six months ago the three of them decided to put their experience and talent to good use and set about creating the ultimate Queen tribute band. All they needed was a good Freddie - possibly not the easiest task but they were lucky enough to find one in the athletic form of John Humphries. At just 28 years old, John was only a baby when Queen were at their highest point but despite his tender years, John had already played with top local bands such as Sight and Sound, Tears and the ELO Experience, making him the perfect Freddie Mercury front man.
Only a few short months since putting the show on the road, Queen Alive already give an astoundingly accurate recreation of Queen's stadium-filling live shows. In fact, they have already played to a delighted crowd of 4,000 in Cyprus and have just returned from a highly successful tour of Germany.
Previous Page
Top