Forever Jackson -
Michael Jackson Tribute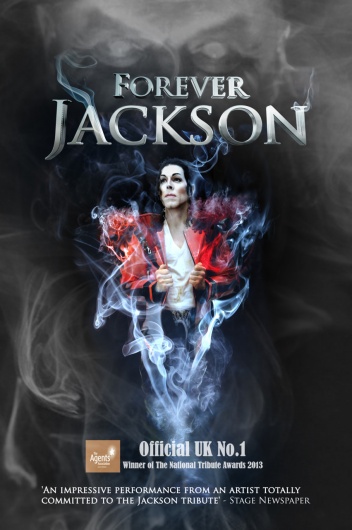 Michael Jackson Tribute
'Forever Jackson' is the ultimate tribute to Michael Jackson setting the industry alight and selling out venues wherever they go. The show has become one of the most in demand tribute shows in the country and is fast becoming THE number one Michael Jackson show to see! In the past three years Forever Jackson has performed in countries such as Dubai, India, Crete, Turkey, Spain, Mexico, Egypt and Tenerife as well as Nationwide across the UK.
Some of their key performances include headlining The McDowell Signature Indian Derby (30,000 in attendance, live national TV coverage on multiple stations), headlining Gay Pride in Sitges, Barcelona (20,000 in attendance) and headlining Music On The Moor in Hertfordshire (15,000 in attendance). They regularly perform for many leading brands, companies and chains including Butlins, Thompson Sensatori, First Choice, G Casino, Pontins, Haven and Park Resorts to name but a few. Now with theatre dates set plus more high profile entertainment providers keen to work with the show, Forever Jackson are establishing themselves as the ultimate Michael Jackson tribute.
Robin Parsons pays true homage to the late great King Of Pop. Singing 100% live lead vocal, his voice replicates the distinctive tones of Jackson – you could be forgiven for believing he mimes! His dancing mirrors the legend in every detail, step for step right down to the smallest of mannerisms and his look (created through a two hour process using ONLY theatrical make-up) is the exact image of MJ. He has spent the past 13 years studying Michael Jackson in meticulous detail to produce the closest complete likeness currently performing today. Robin has been a long time fan and learnt to replicate Michael's abilities through a love of performing.
His dedication paid off in a big way when he got to live a dream and performed for Michael Jackson in 2003 at his 45th Birthday show at the Orpheum Theatre in L.A....an honour only a very select few have experienced! The show features a full production including a live 3-piece band accompanied by an epic click track. The musicians are of the highest standard and have supported acts such as Beyonce, Katy Perry, The Script and Mamma Mia to name a few. Lead by the show Music Director and lead guitarist Lee Turner, together they have recreated the unmistakeable hits of MJ whilst staying true to the original sound and have given them a fresh feel for this millennium.
Forever Jackson is backed by an amazing all girl dance team known as Hip Hop Pop. The girls, choreographed by Jenny Bater, perform the classic world-famous routines whilst adding a little something extra for the modern age of music. They are simply electrifying!
Previous Page
Top