Dream Supreme -
Tribute to the Supremes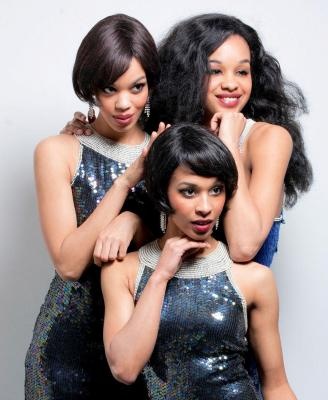 Tribute to the Supremes
Welcome to the World of the Dream Supreme's as they transport you back to a time of graceful singers, elegant shimmering costumes, earthy but soaring songs and vigorous bass with a throbbing beat! Re-live & experience the glitz, glamour and sheer vitality of the Motown Era recreated at one of Dream Supreme's Stunning Shows! Introducing our lovely Dreamettes who started off humbly in their parent's front room (that's right they're all sisters!) they tell a story of how one small idea can lead to much bigger things.
The Lead Singer and unrivalled Star of the Show is Keri Arrindell - a singer, songwriter, model and Grand Finalist on the famous X Factor Talent Show. She is celebrated for her soulful voice and excellent vocal range, bring in Sharlene as Mary Wilson and Jennifer as Florence Ballard and the package is complete as the sisters generate a harmonious backing to Keri's striking lead. The sisters have a family history in entertainment, their father an accomplished musician and singer & mother have always encouraged & supported the girls desire to perform.
They often enjoyed family singing sessions, putting on shows and experimenting with the various instruments that were invariably lying around their family home. Keri had a passion for singing from a young age and was performing at venues from sixteen years of age. Her breath taking vocal ability did not go unnoticed during her performance on X Factor in 2010, with amazing reviews & comments from the judges, where she had the pleasure of perfoming as a finalist for Cheryl Cole! Keri has been delivering stunning live performances for almost seven years, Jennifer and Sharlene are as passionate about their roles and perform with splendid harmonization to ensure they are the UK's Number One Diana Ross & The Supremes Tribute Act, boasting sell-out shows wherever they perform.
The girls have toured Nationwide performing at many prestigious venues including Pontins, Warner Leisure and Butlins. So come to a Dream Supreme Show! Meet the family and experience the thrilling tones of the 60's, 70' and 80's. Where you can dance the night away and Dare to Dream!
Previous Page
Top