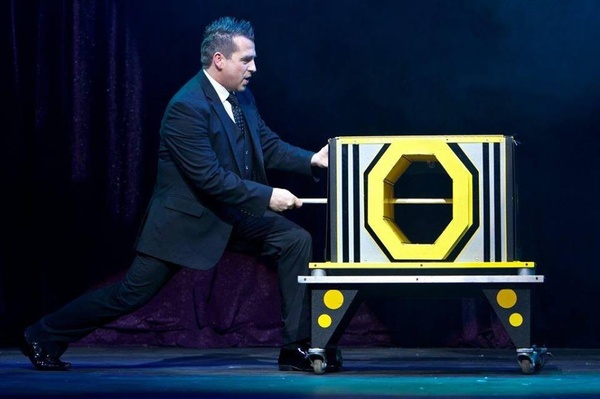 Illusionists
Daniel Hunt and Annette Claire are Amethyst Escapologists & Illusionists. Together they have worked alongside some of the country's top performers and producers such as Freddie Starr, Ken Dodd, The Chuckle Brothers and The Grumbleweeds. Amethyst have had the honour of performing for the world famous 'Magic Circle', the 'British Magical Society' and for the 'IBM' British Ring, as well as featuring on several occasions at the world's largest Magic convention held in Blackpool.
Amethyst are highly acclaimed as one of the countries most unique and impressive acts of the 21st century, touring the UK and overseas with their spectacular shows. They have performed in some of the most prestigious venues and on some of the largest super liners around the world. The duo have created two completely different shows, their first combines magic and illusion with song and dance. Their second features large scale, death-defying escapes, many of which have been designed for their show in America. Danny & Annette also perform Close-up Magic for weddings, private parties, corporate and hospitality events, having performed in the UK and overseas at various functions and aboard luxury cruiseliners.
Amethyst also hold executive magic workshops, which are available for adults and children alike. These have been developed to encourage concentration, imagination and dexterity and for a more corporate market to encourage team and confidence building. Their highly acclaimed lecture, 'In the footsteps of Houdini' has proved to be to be their most popular lecture to date which involves a brief history of Houdini's life; included is archive footage of the famous escapologist, intertwined with lock picking techniques and methods of escapes. Amethyst have had the great honour of performing this lecture at the world famous Magic Circle headquarters in London.
Amethyst have become well known for their daring recreations of Houdini's cell escapes, escaping from the condemned cell in the Castle Museum - York, Ripon's Liberty Gaol and the Castle Keep in Newcastle. They have also accepted many other challenging feats, such as Danny hanging upside down by his ankles high above a crowd, bound in a strait jacket, escaping from a tank filled with 55 gallons of water and risked being torn apart by 2 trucks as well as accepting challenges from several police and law enforcement agencies and various underwater escapes.
Previous Page
Top