The Jazz Dynamos -
Jazz & Swing Live Show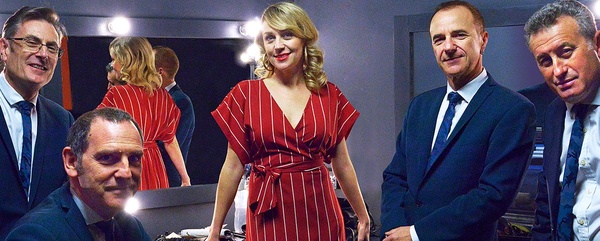 Jazz & Swing Live Show
The Jazz Dynamos are a sparkling band of extremely talented musicians. Far more than just a jazz band, their range also covers swing and cool jazz from the 1930s to the 1960s, classic 50s rock'n'roll, some 60s pop and some funky soul and Latin numbers too. This gives The Jazz Dynamos great versatility and means they can play cool background music and dinner jazz for part of a reception, and then switch up a gear to provide great dance music for all ages with a repertoire from Sinatra to the Beatles and beyond.
No surprise then that celebrities including Sir Paul McCartney, Pink Floyd's Dave Gilmour, Tina Turner and Sir Anthony Hopkins have booked this superb band for their private parties. They normally appear as a five-piece: male vocals/guitar, female vocals, keyboard, double bass and drums but they can also slim down to a four-piece or add a sax player to make a six-piece band. Our price is based on the five-piece band. The band normally play for around two-and-a-half hours divided into two or three sets, and can play music on iPod through their PA system during their breaks and before the start of their performance.
If you are having a pre-dinner drinks reception, you also might want to consider, for a small additional charge, having the keyboard and double bass player provide an instrumental duo to play some welcoming background music.
Previous Page
Top