The Rubettes -
Live 70's Band Show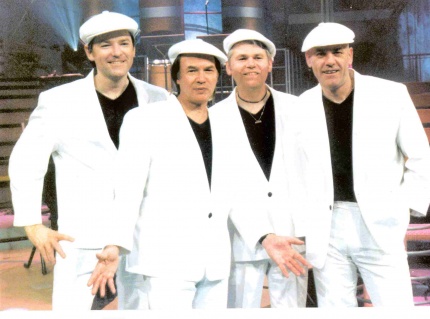 Live 70's Band Show
so it was that John Richardson, Alan Williams & Pete Arnesen were asked to form a band. Some more musicians were needed to complete the line up so John contacted musician friends Mick Clarke, Tony Thorpe & Bill Hurd who were delighted with the opportunity and rightly so for it was but a few months later that the Rubettes achieved the coveted No.1 spot in the U.K. charts in May 1974 with their first single 'Sugar Baby Love'.
Sceptics would say shortly afterwards that their whirlwind rise to the top was primarily due to their uniquely flamboyant image and wouldn't last, but their incredibly distinct vocal sound had made it's mark and for whatever the reason the British public had taken the 'Rubettes' to their hearts, the 'Legend' was born and history was to eventually show that 'Sugar Baby Love' would attain the status of 'Classic'.
Within months this phenomenal success was repeated virtually Worldwide and before long the 'Rubettes' found themselves riding on the crest of a wave after a succession of 'Hits' in Europe and places further afield such as Australia and Japan. 'Hits' which included two more songs from that first session in 1973, namely 'Tonight' and 'Juke Box Jive'.
Previous Page
Top