John Rossall -
Named Band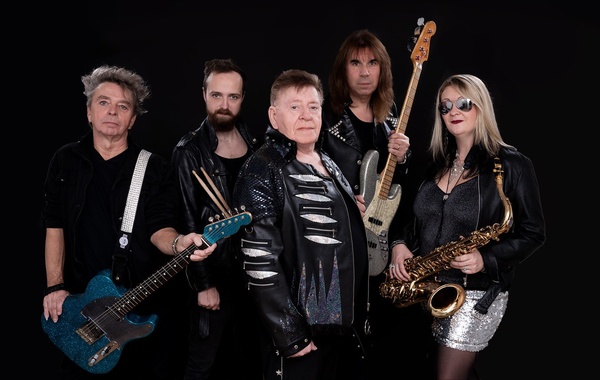 Named Band
John Rossall has an incredible musical heritage, most notably having always been an integral part of the classic seventies 'Glam Rock' era. John was there right from the very beginning, performing on multi million selling hit records and on stage, creating a sound and songs that defined a generation.
As part of the 'Mike Leander Showband' and later as founder of the 'Boston International', John Rossall enjoyed a successful career throughout the sixties and early seventies, touring throughout Europe and appearing on many hit records including Tom Jones' "It's Not Unusual" and the Walker Brothers' "The Sun Ain't Gonna Shine Anymore". Glitter Band Co-Founder Harvey Ellison joined John in the 'Boston International' having previously worked with 'Root', 'Jenny Jackson' and 'Billy Stewart' amongst others.
In 1972, legendary producer Mike Leander asked John Rossall if the Boston International would back Gary Glitter, helping to promote "Rock & Roll"/"Rock & Roll Part 2" on the UK television show Top of The Pops and subsequently on the road. Originally recorded in 1971, "Rock & Roll" was a massive hit, reaching number 2 in the UK, number 1 in France and number 7 in the USA. Further hit records followed throughout 1973 and 1974, "I Didn't Know I Loved You Til I Saw You Rock & Roll", "Leader of The Gang", "I Love You Love Me Love" and "Always Yours" dominated the UK charts, with John Rossall and Harvey Ellison adding integral brass parts to Mike Leander's instrumental tracks.
Firmly established as 'The Glitter Band', in 1974 John Rossall, along with lead guitarist and vocalist Gerry Shephard wrote "Angel Face", the band's debut solo single and worldwide million seller. Further Rossall/Shephard collaborations followed - "Just For You" reached number 10 in the UK chart in August 1974 with "Lets Get Together Again" reaching number 8 and "Goodbye My Love" number 2 in January 1975.
Previous Page
Top